District students earn Rising Young Author awards
Annual awards and book signing to feature 11 new authors on October 14th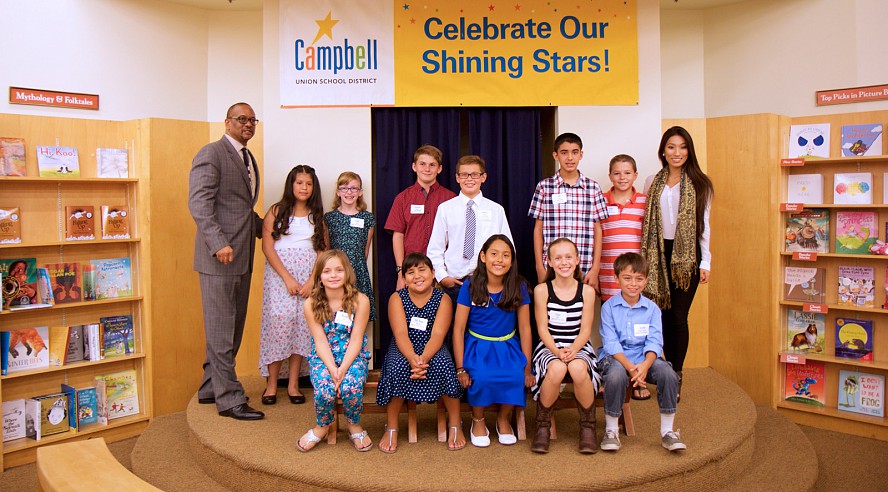 Students Earn Awards for Written Works
The community will celebrate 11 talented student authors at Campbell Union School District's 13th Annual Rising Young Authors awards on October 14, 2015, at 7 p.m., at the Barnes & Noble Bookstore on Stevens Creek Blvd. The students will speak to the audience about their books and later autograph copies for fans who bring copies with them to the event.
Guest author Clara Lee, a former Campbell Middle School student and author of Cupcake Theory, will speak to the students about her experience as a student who later became a published author. She is holding a book signing of her own earlier in the day. Information about her book is at ww.cupcaketheorybook.com.
The Rising Young Authors are a select group of students whose short stories, essays, research papers and poems were among the hundreds entered in the District's annual Writing Faire. Judges review the entries for technical excellence, focus, structure, use of creative expression, vocabulary, word combinations, and originality in ideas and/or presentation of ideas. Only one author is chosen per school per year in grades 3 through 7.
More than 100 parents, family members, teachers, elected officials and principals attend the annual awards and book-signing event. The award includes one professionally produced copy of his or her book for the school library and a personal copy to keep, a $20 gift certificate from the Assistance League of Los Gatos-Saratoga, a personal writer's journal from Barnes & Noble, and a chance to win a Kindle e-reader from School Innovations & Achievement. Barnes & Noble will also donate a portion of sales from that day to the school district to support writing programs.
See the event flyer (English and Spanish)
The 2015 Rising Young Authors
To have your personal copy signed by the author, order a copy of the student authors' book before the event and bring it to the book-signing at 7 p.m. on October 14th.
| | | |
| --- | --- | --- |
| Representing Blackford School | Lily Anna Higareda | |
| Representing Campbell Middle School | Jett Felder | |
| Representing Capri School | Aidan H. Morales | |
| Representing Castlemont School | Alyssa S. Lena | |
| Representing Lynhaven School | Jayden L. Mandler Sanders | |
| Representing Marshall Lane School | Faith C. Gonia | |
| Representing Monroe Middle School | Andres J. Sanchez | |
| Representing Rolling Hills Middle School | Garrett J. Dickson | |
| Representing Rosemary School | Brenda M. Andres Ruiz | |
| Representing Sherman Oaks School | Nina C. Ruiz Garcia | |
| Representing Village School | Talyn S. Hardy | |