Board Meeting News - 12/8/16
Agenda topics and presentations from the regular meeting of December 8,2016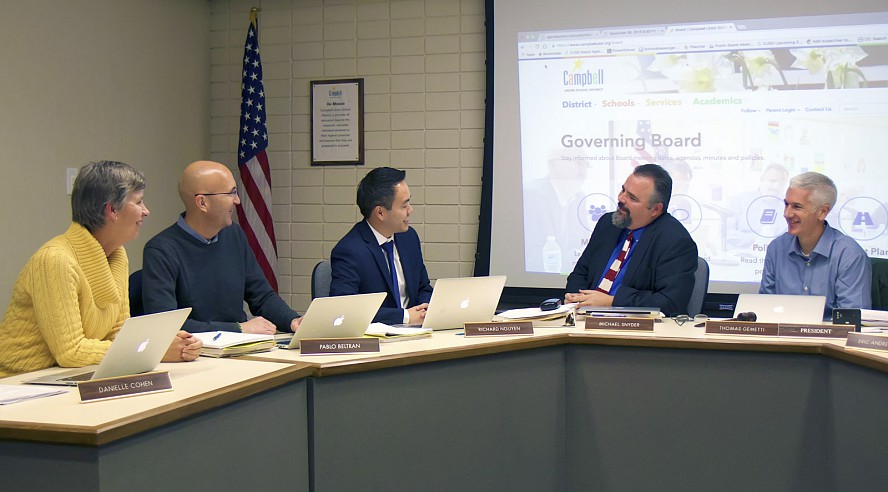 Organizational Meeting:
New Board Officers: President Thomas M. Gemetti; Vice President Michale L. Snyder; Clerk Richard H. Nguyen
2017 Meeting Schedule: The next regular meeting will be January 19, 2017. All future meeting dates can be found on our online calendar and posted at school offices.
Strategic Plan Update:
Superintendent Andrew provided the Board with a copy of the Executive Summary of the District's Communication Plan, a specified task from the September Strategic Planning session. He noted that the summary includes a marketing schedule that outlines key opportunities for telling the district's story and measuring outcomes.
Local Control & Accountability Plan (LCAP) Update:
Assistant Superintendent Whitney Holton reported on the State of California's changes to the student assessment program and ensuing revisions to the LCAP template. She said:
The LCAP allows educators to look at student achievement data in effective ways and to guide instructional decisions.
The State's new LCAP template promises a format that will make the reports more reader-friendly
CUSD is preparing an executive summary of our LCAP, which will be ready in January.
There are two LCAP Community input meetings scheduled for January 18th and 24th where the District will elicit input about goals and priorities. Slides from the presentation can be seen on request or online at www.campbellusd.org/board.
Campbell Middle Transformation to PK-8:
Superintendent Andrew described the plan for the December 15th Board Study Session and the role of the consultant who will be facilitating the discussion. Consultant Derek Mitchell, who is experienced in school transformations, will present relevant research, sample transformation models (their pros and cons); and the decisions and actions that will be needed for success.