Board Announces Provisional Appointment to Fill Vacancy
Governing Board selects Beltran for provisional appointment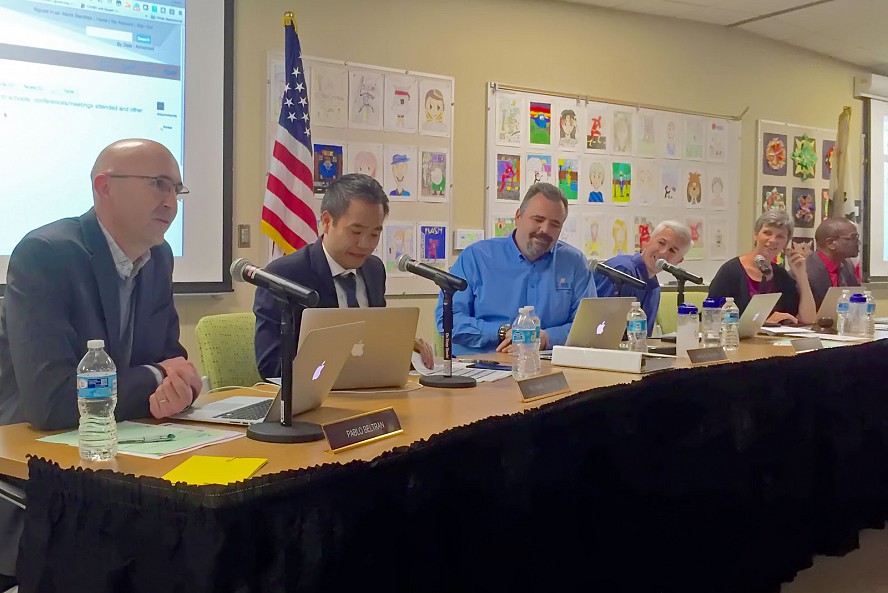 At the March 31, 2016 Board meeting, from left to right: Pablo A. Beltran, Richard H. Nguyen, Michael L. Snyder, Thomas M. Gemetti, Danielle M.S. Cohen.
UPDATE: NOTICE OF PROVISIONAL APPOINTMENT OF GOVERNING BOARD MEMBER
April 1, 2016—Board Member Juliet Tiffany-Morales resigned from the Campbell Union School District Governing Board effective March 10, 2016. The Governing Board determined the vacancy would be filled through a provisional appointment process.
On March 31, 2016, the Governing Board provisionally appointed Pablo A. Beltran to fill the vacant seat.
Unless a petition calling for a special election, containing a sufficient number of signatures, is filed in the office of the County Superintendent of Schools within 30 days of the date of the provisional appointment, this shall be an effective appointment.
FEBRUARY NOTICE OF GOVERNING BOARD VACANCY
February 12, 2016—A vacancy in the membership of the Governing Board of the Campbell Union School District has occurred by reason of the resignation of Board Member Juliet Tiffany-Morales, effective March 10, 2016.
The Campbell Union School District is accepting applications to fill the vacancy by provisional appointment. Applications are available at the District Office, 155 N. Third Street, Campbell, CA.
QUALIFICATIONS FOR POTENTIAL CANDIDATES
California Education Code Section 35107 states: "Any person, regardless of sex, who is 18 years of age or older, a citizen of the State, a resident of the School District, a registered voter, and who is not disqualified by the Constitution or laws of the State from holding a civil office, is eligible to be elected or appointed a member of a governing board of a school district."
The Governing Board will conduct interviews and select the provisional appointee prior to March 31, 2016. The new Board Member will serve as a member of the Governing Board until the seat is filled by election in November 2016. Term expires the first Friday in December 2016.
The deadline for submitting applications is 3:00 P.M. on Friday, March 18, 2016. For information, contact Peg Tushak, (408) 341-7232