Preparing Students To Reach Their Highest Potential
College Bound Or Not, We Prepare Them For A Future With Options
They say success is a journey, not a destination. For Campbell Union School District students, we want to ensure there is joy in the journey. Our teachers and staff are committed to providing students with the tools and knowledge needed for the future they will help create.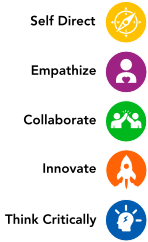 "We want our students to see the real-world connections between what they are learning in school and the possibilities for their future," said Director of Teaching and Learning Pamela Cheng. "Our Profile of a Graduate competencies—Self-directed, Critical thinker, Collaborative, Innovative, Empathetic—provide a focus for our program decisions to prepare students for the demands of the evolving future workforce."
The district promotes college and career readiness by setting high expectations and providing opportunities for all students to have real-world learning experiences. Here are a few examples of how CUSD supports curiosity, learning, and real world connections to learning across the district:
The

Expert Connections

and the

Wonder Wednesday

programs are resources for teachers to invite guest speakers from the community to share their expertise with students, talk about their journey to gaining their special skills, and show students how what they learn in school connects to their future.

Through the

Biliteracy Pathway Awards

program, Sherman Oaks and Monroe Middle students choose to work toward

proficiency in speaking, listening, reading, and writing in one or more languages in addition to English.

It is part of the multi-year path to earning a State Seal of Biliteracy on their high school diploma.

Partnerships with

Bay Area Women's Sports Initiative (BAWSI)

provide young girls in our schools a free after-school fitness and confidence building program where collegiate female athletes inspire young girls to get active, believe in themselves and improve their beliefs, attitudes, and behaviors about physical activity.

We partner with local universities to have their students tutor and mentor our students in subjects such as mathematics, digital citizenship,

cybersecurity

, coding and more.

The

Advancement Via Individual Determination (AVID)

is a program aimed at closing the opportunity gap by preparing all students for college readiness and success in a global society. It has been part of Monroe Middle School for more than 20 years, and CUSD was among the first districts in California to offer it at an elementary school. While the course itself has strict qualifying standards, elements of the program can be found in classrooms across the district.

Our eighth graders can opt into an accelerated math course that prepares them for accelerated math in high school.
"While every student may not currently desire to go to college, we are committed to ensuring they have the skills necessary if they ever do want that option," said Superintendent Shelly Viramontez. "Whether their path leads to college or to a trade vocation, it's our job to ensure our students have evolving abilities that make their aspirations a possibility."