Students Cook Up a Winner in 2nd Annual Cooking Competition 
Teams recipes to appear on the upper grade lunch menu
Creativity and teamwork were on display as teams of student chefs from three CUSD schools engaged in a culinary clash: the Second Annual Chef's Choice Cooking Competition. The prize: having their dish on the grade 6-8 lunch menu and their names on a perpetual plaque..
For months, teams of sixth through eighth grade students in our Expanded Learning after-school program competed at the school level. Their efforts had real-world application. Their meals had to look and taste delicious while meeting the U.S. Department of Agriculture's Nutrition Standards for School Meals.
One team from three schools made it to the April 5th final round held in the district's Central Kitchen.
Sherman Oaks: Jasmin, Leilany, Andrea, and Camila. Meal: Torta de Asada (a savory Mexican sandwich)

Monroe: Rohin, Nerice, Hana, and Lailani. Meal: Sinigang (a tamarind soup native to the Philippines)

Rolling Hills: Sarim (competing solo due to an ill teammate). Meal: Grilled Cheese and Tomato Sandwich with fresh Tomato Basil soup.
The excited and determined students worked together to create their signature dishes and clean up their stations before the panel of judges, community representatives, and a count-down clock.
Judging the meals were CSI Student Angela Park; Board President Danielle Cohen; Superintendent Shelly Viramontez; Child Nutrition Dept. Director Benny Calderon; Child Nutrition Dept. Assistant Director Vachan Boja. Community partners included CalFRESH, Sutter Health, 5210, Santa Clara Public Health, University of California Agriculture and Natural Resources.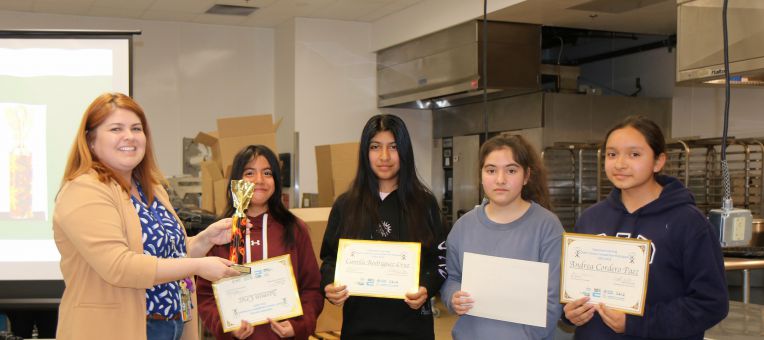 "All the meals were delicious, so the judges had a hard time choosing one winner," said Child Nutrition Department Director Benny Calderon.
The result: Sherman Oaks' team (pictured above) received the winner's trophy, but all three meals will be on the grade 6-8 lunch menu.