Learning Labs Offer Support, Equity and Safety During Distance Learning
Daily practice shows safety protocols are working.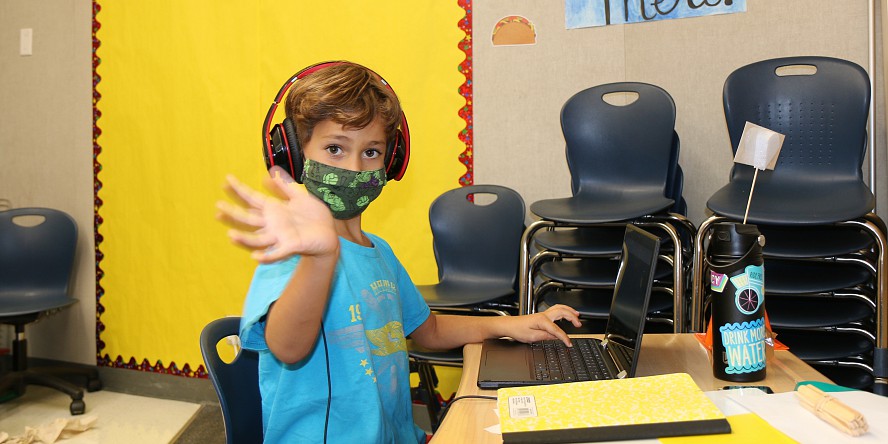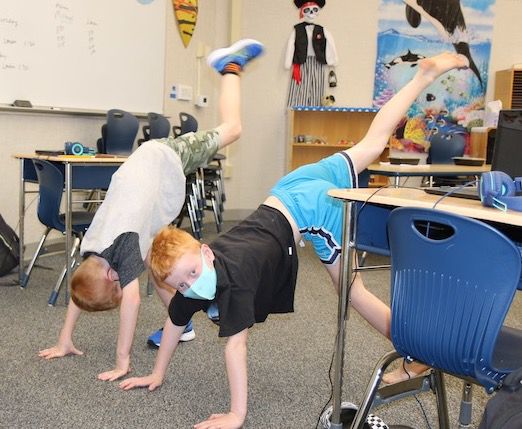 The twin brothers follow along with a video yoga lesson as other mask-wearing students work on distance learning lessons on Chromebooks. Shellie Lansing, a Campbell Union School District employee, supervises the well-lit Learning Lab, with its desks spaced far apart.
"Coming here is cool!" says Emmett, an active first grader, who sits, stands, then sits again as he works through a project on his device.
The District's Learning Labs are providing daytime supervision for 170 students, a few who are children of district employees and some who have had significant struggles with distance learning since the spring school closures. Registration is by invitation only, based on district criteria.
"We are thrilled to be able to provide this support to our students," says district Superintendent Shelly Viramontez. "It is part of our commitment to equity and giving students what they need to be successful."
There are five Learning Lab locations across the district serving TK through 5th grade students from any school in the district. To keep student cohorts unique, each room holds 12-14 students who attend the same school. They follow their school's schedule for their grade and have options like Go Noodle, yoga, and outdoor activities in assigned areas during breaks and lunchtime.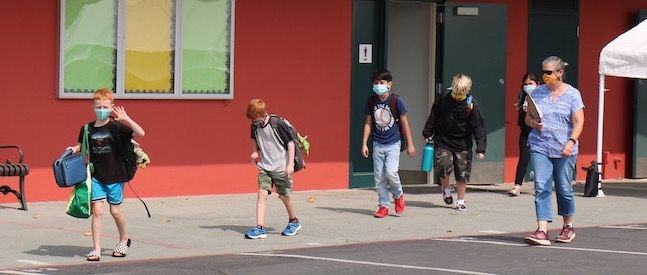 Operating the Learning Labs is doing more than supporting learning. The labs are helping students and staff learn to follow the COVD-19 safety protocols in the district's School Reopening Plan. Students' daily routines include reminders about hand hygiene, staying six feet apart when moving about campus, and using assigned restrooms.
Even with these limitations, Isabella, a fifth grader, thinks coming to the Learning Lab is better than not coming "because you get to get out of the house for a while."
When asked how this year differs from fourth grade, her answer shows great empathy. Rather than mentioning the obvious—masks, distancing, and the virus—she says: "I didn't know that some people don't have the same technology. Like a family with five kids and two parents all trying to use the WiFi at the same time can really be a problem."
"We've had a great experience with the Learning Labs," says Kathleen Bagmanov, parent of two CSI students who attend the program at Capri School. "We are very careful about who we interact with, and it feels good to see that the staff have put in place everything they said they would," she says. "The kids know the safety rules and follow them. My girls come home and tell me how often they wash their hands; they even forget to take their masks off at home."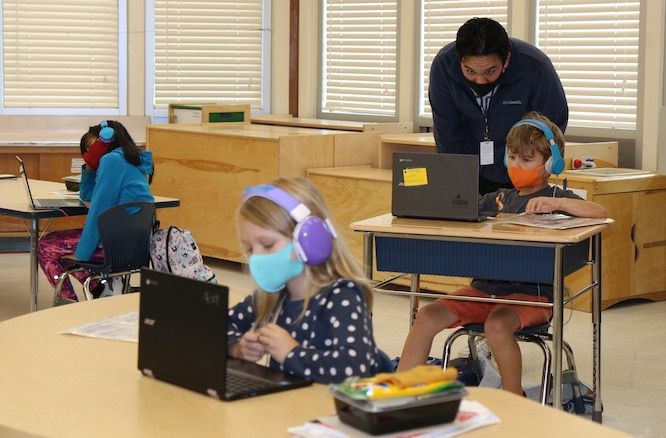 Bagmanov and her husband both work full time, which made helping their daughters with distance learning a tough job. When the opportunity to register for Learning Labs arose, she took action.
"Now it's so much better for staying on schedule. The kids don't miss their Zoom session with the teacher anymore."
"Conditions in Santa Clara County are trending in a positive direction," Viramontez says. "If they continue this way, we will be able to bring students back to campus under Phase 2 of our plan. The process will take several weeks and we will be very thoughtful and gradual about taking that next step."
The Learning Labs are also saving jobs. Three bus drivers and other non-instructional staff, whose work stopped along with the pandemic's shut downs, are now trained Learning Lab supervisors.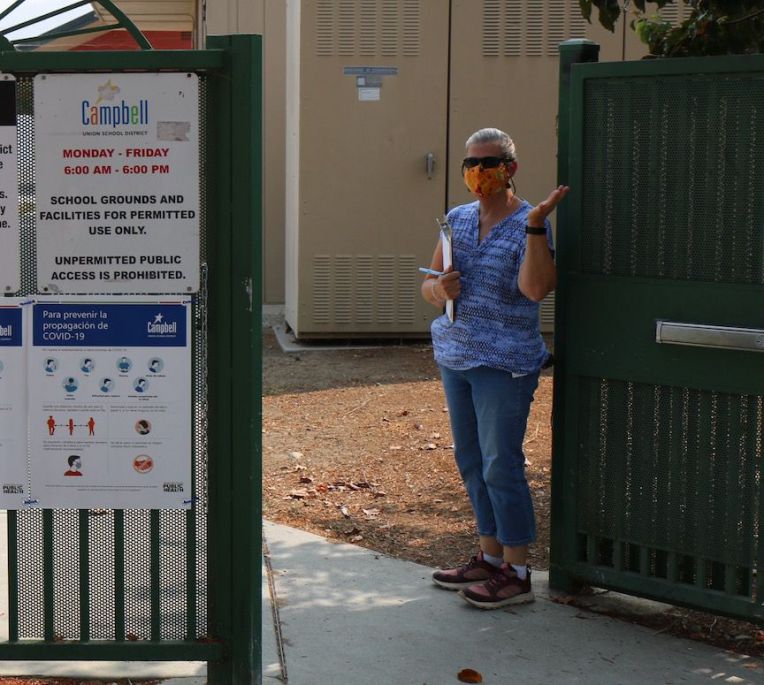 Shellie Lansing, a district bus driver for 37 years, says she chose the job "because I like kids. Also, they're usually all behind me. It's nice to have them in front of me for a change."
Through the training, Learning Lab staff gain new tech skills so they can assist students with logging in to their online lessons.
"It's been good," she says. "I still hope to go back to a somewhat more regular life one day though."
So do we all, Shellie. So do we all.