State's New Stringent Plan Unveiled for Living with COVID-19
Guidance for school reopening included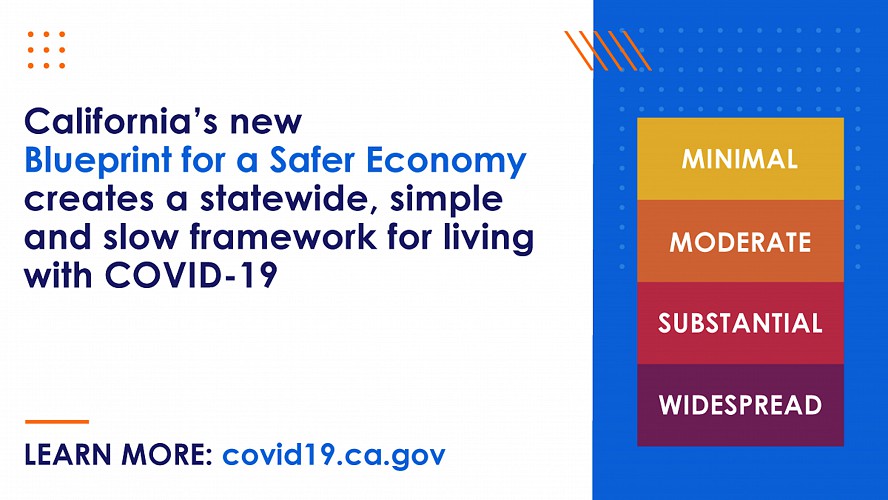 Governor Newsom announced California's new blueprint for reducing COVID-19 in the state and the revised criteria for loosening and tightening restrictions on reopening activities. The new California Department of Public Health's Blueprint for a Safer Economy replaces the previous State Monitoring List, and includes guidance for schools that aligns with State law directing public schools to "offer in-person instruction to the greatest extent possible." (Ed. Code § 43504).
Based on recent data, each county will fall into one of four colored tiers—Purple (Widespread), Red (Substantial), Orange (Moderate) and Yellow (Minimal)—based on how prevalent COVID-19 is in each county and the extent of community spread. That color will indicate how sectors can operate.
The blueprint lays out the measures that each county must meet, based on indicators that capture disease burden, testing, and health equity, and it reaffirms the July 17 School Re-opening Framework and the Guidance for Small Cohorts/Groups of Children and Youth for reopening schools for in-person instruction. Because individual counties may be more restrictive than the State's plan, our District leadership will monitor local directives and conditions closely before initiating any progression from Phase 1 to Phase 2 of our Reopening Plan.