COVID Testing Update
A Message from Dr. Pescatore, Grapefruit Testing's Chief Medical Officer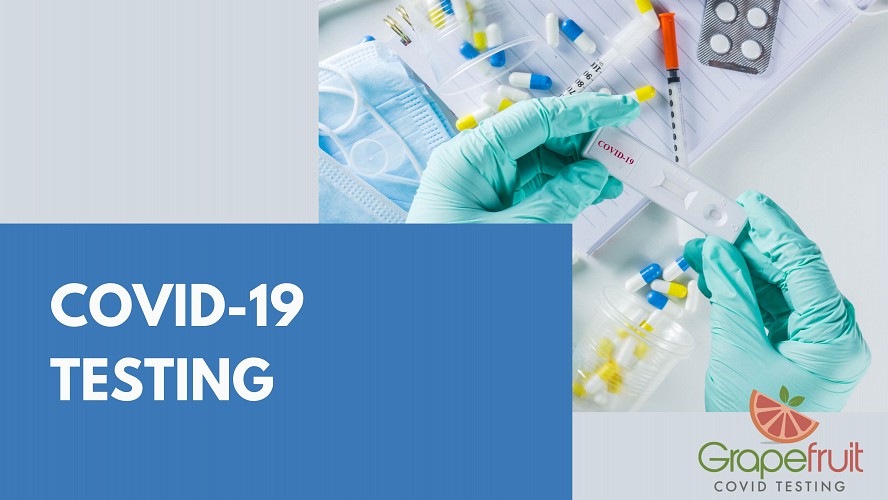 Grapefruit has performed thousands of COVID tests in Campbell Union School District since beginning just a few weeks ago, and successfully identified, traced, and isolated COVID-19 both within schools and the surrounding community. The testing POD located next to Monroe Middle School has become a critical testing access point, particularly after business hours and on weekends.
As we've commenced operations, though, we've encountered opportunities for improvement and alterations in flow and function. First off, we've partnered with Predicine to be able to eliminate "Modified Quarantine" Testing Days, and instead have a "Rapid Response Team" able to deliver testing where it's needed, when it's needed.
There have been some modifications in the testing schedule in order to maximize staffing and continue to refine procedures. We've transitioned testing over to all PCR testing, allowing a smoother flow through testing while at school and the benefit of gold standard testing. This is still a front-of-the-nose test, but now small children can elect to try an oral swab if they can't tolerate the nasal test. Results should be available in your inbox prior to the morning following testing, but may take up to 48 hours in rare cases.
Perhaps most importantly, Grapefruit is dedicated to continuing to adjust, adapt, and respond to needed changes. We know that first begins with open communication and fast access to answers. To that end, if you have any questions, concerns, comments, or need any assistance, please do not hesitate to reach out directly to Grapefruit's Chief Medical Officer, Rick Pescatore, at https://www.privatedaddy.com/?q=ZVpsX2hySkdJZj9lSGRNUkJHaFo3RiFhdVdna2NaZ08-3D_1464/r=aHR0cHM6Ly93d3cuY2FtcGJlbGx1c2Qub3JnL25ld3MvY292aWQxOS10ZXN0aW5nLWF0LXNjaG9vbHNfMTAwMTIwMjE-3D/v=Mi4z/p=OC4yLjg-3D.
Sincerely,
Dr. Richard PescatoreII, DO, FAAEM, FACEP
Chief Medical Officer, Grapefruit Testing