New School to Open August 2018
Campbell School of Innovation Will Have Design Thinking Focus. Opening for Grades TK-4th and Growing to TK-8 by 2022.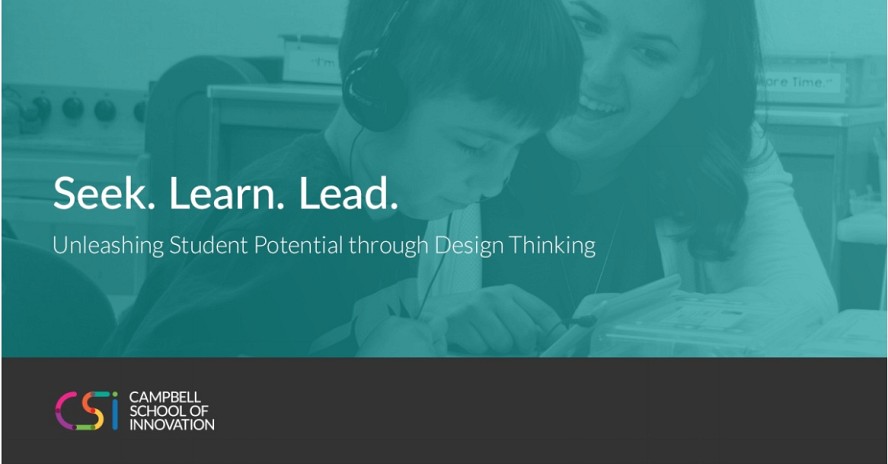 A new school is coming to Campbell in 2018. The Campbell School of Innovation, a public school for transitional kindergarten through eighth grade is being hailed as a catalyst for changing the landscape of learning in Campbell Union School District.
"Our society is changing rapidly," said Dr. Shelly Viramontez, Superintendent of the Campbell Union Elementary School District. "It's critical that all of our students gain the kind of enduring skills and knowledge they'll need for successful careers: creative problem solving, critical thinking, collaboration, and communication. Campbell School of Innovation will lead that effort for all of our schools."
Focus on Design Thinking
The focus for Campbell School of Innovation will be Design Thinking, a creative problem-solving approach embraced by Silicon Valley industries for addressing complex problems. Teachers who apply and are selected to teach at the school will receive additional training from experts at the Stanford d.School (School of Design).
The school will use Design Thinking as the strategy to bring the rigorous, standards-based instruction found at all Campbell Union School District schools, and maintaining a strong focus on essential literacy and mathematics.
"What makes Design Thinking unique is that it is empathy-based. It's human-centered," said Kami Thordarson, Director of Innovation and Digital Learning. "To prepare children for the workforce of the future, we really need to cultivate their adaptability, flexibility, creative thinking, and the innovation process."
District educators are excited about the unique opportunity of the TK-8 grade setting because it eliminates the transition to middle school and allows students and teachers more years to build strong relationships and master skills.
Renovation to Promote Collaboration
The campus will be renovated in phases, starting January 2018, and its learning spaces will look quite different from what most people are used to, according to Construction Manager Doug Williams. The architects are designing spaces aimed at promoting collaboration, fostering exploration and discovery for the early primary grades through eighth grade.
"I think students are going to love coming to this school," said Principal Norma Jeanne Ready. "It will be student centered and the environment will look different. Also, the design thinking process that is built into our work, both for students and for teachers, will really help students tap into their passion and expertise."
Enrollment Begins in January
Campbell School of Innovation, at 295 Cherry Lane, in Campbell, will open in August 2018 for grades TK through 4 and grow to TK-8 by 2022.