Sparking Curiosity. Encouraging Innovation.
Elements of Great Teaching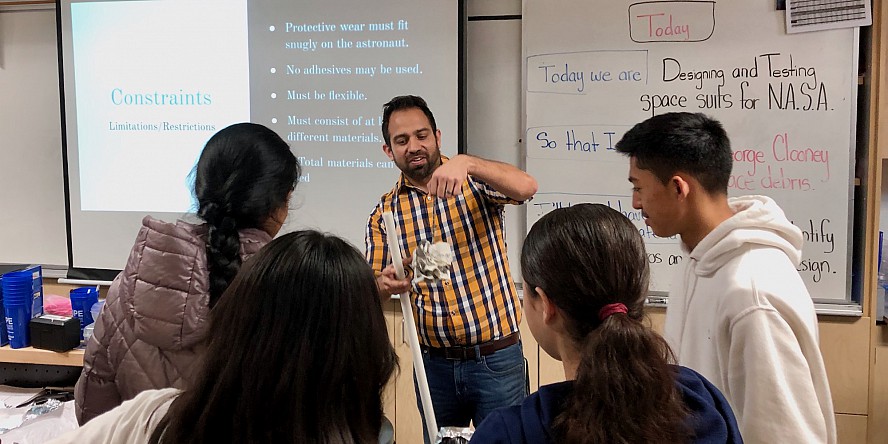 "Enthusiasm can be contagious," says Monroe Middle School science teacher Richard Timpson. "If I can create the spark of wonder and curiosity in just one student, we might be one step closer to exploring the stars and ultimately mining space. This is why I show up each day with a smile on my face and pep in my step."
He is pictured here working with 8th grade students on a lesson about forces. Students collaborated to design a suit to protect their "astronaut" balloons from space debris. They were engaged, asking questions, and discussing forces, properties of materials, mass, and speed.
Students in Richard's class learn more than science, according to fellow teacher Julie Goo. "He introduces them to a real-world problem, and through their questions and genuine curiosity they apply the science and engineering practices. He inspires all of his students to make connections, encouraging creativity as they learn the scientific content and understand the concepts."
Timpson believes that sharing ideas is essential to success, and credits the success of the lessons to the collaboration among teachers at Monroe.
"Richard's enthusiasm for science is contagious," says Monroe Principal Eric Brown. "He's always ready to have a conversation with students and teachers about STEM (science, technology, engineering and math), and he encourages them to persevere and problem-solve as they work through challenges."
It is through the challenges that the learning takes hold, says Timpson, who has been teaching in the district for six years and earned the 2018 Texas Instruments Innovations in STEM Teaching Award.
"Students find out that their initial ideas are a great start, but rarely solve the problem," he says. "I encourage them to explore and try more ideas, learn from their mistakes, and then, like all good engineers, try again. The big idea is that design thinking is just a means to make innovation happen. I want them to know that creativity can sometimes end in failure, but that it is okay."
His students regularly bring innovative projects to Campbell Union School District's annual STEAM showcase and participate in STEM competitions in the greater community, such as MESA, Tech Challenge, and others.
"Richard Timpson is committed to making sure students learn at their highest potential. He leverages our profile of a graduate competencies of critical thinking, innovation and collaboration to make this happen," says Superintendent Shelly Viramontez."His is one of our many outstanding teachers who are teaching rigorous academics through the lens of design thinking."