Innovative Students Design Award-Winning Future Cities
Middle schoolers presented creative solutions at the 2019 regional competition.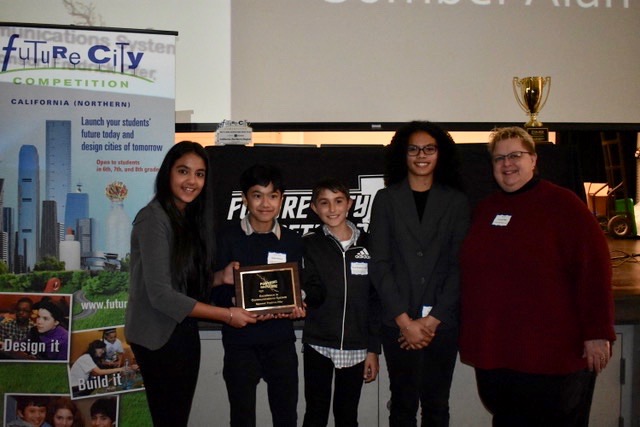 Rolling Hills Middle School's Future City teams earned top honors at the 2019 Northern California Future City Competition in Sacramento, Saturday, Jan. 26th. The RHMS students earned four special team awards (best communications system, best innovative power system, best transportation system and best future city concept). The team of Sumber Alami made it to the finals, presenting on the main stage in front of five judges and about 100 people, and they placed 5th overall.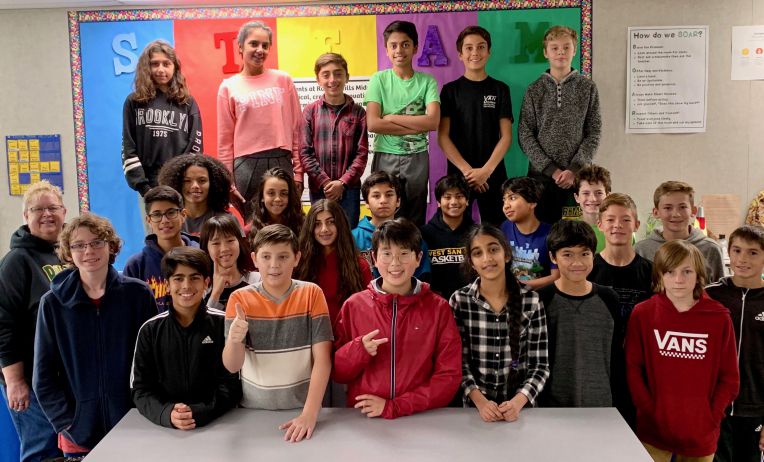 "I couldn't be more proud of their accomplishments," said STEAM Teacher Carrie Tibbs, pictured here with the class at RHMS. "Their dedication to solving problems collaboratively, completing each deliverable on time and creating a safe place for their teammates to contribute according to their skill set exemplifies the characteristics that will carry them successfully through life."
Future City is a project-based learning program where 6th, 7th, and 8th grade students throughout the United States and abroad imagine, research, design, and build cities of the future. For this year's challenge, called Powering Our Future, teams designed a resilient power grid for their future city that can withstand and quickly recover from the impacts of a natural disaster. To compete, students had to write a 1500-word research paper, prepare a slide presentation after running a SIM City simulation to learn about city infrastructure, build a model of a portion of their city and present it to four professional engineers.
"Future City isn't just a competition, it's an experience," said eight grader Robert Bolival.
"The growth those kids went through to pull this off is staggering," said a team member's parent Inga Buyse. "Starting with conception, moving over to research, writing and hands-on building of their model that culminated with a presentation in front of a panel of utter strangers. Add to that the group dynamics and division of labor they had to negotiate their way through and I cannot think of a more complete and life-like experience to put them through."
"Future City is great because it encourages teamwork and innovative thinking. It encourages real-life responsibilities, management and planning. You are totally immersed and it taught me so many skills I can use later on," said Siara Nason, member of team Sumber Alami.
Ms. Tibbs says the competition energized her 7th graders, and they are already making lists of what they want to do differently next year.