Teachers Pitch Ideas for Enhancing Student Learning
Innovation Team Grant Pitchfest Showcases Teachers' Problem-solving Ideas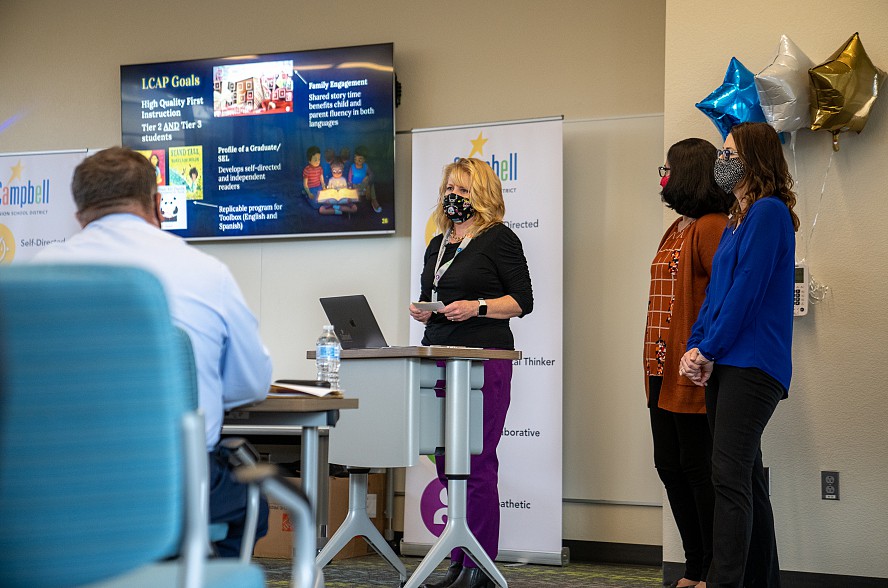 Compassion for students and passion for teaching and learning were on display at the district's first Teacher Innovation Team Grant Pitchfest, Tuesday, October 26th. Eight teams of CUSD educators vied for funding to implement innovative ideas in Shark Tank-style presentations before a panel of judges. The teams championed their ideas for addressing a critical challenge aligned to their specific school goals aimed at closing learning gaps for students.
The result: all teams were awarded grants.
"It was a tough decision for the judges," said District Superintendent Shelly Viramontez. "They were so impressed with the plans, how they connected to our Profile of a Graduate competencies, identified what students missed during distance learning, and aimed to create connections for students and for faculty."
Funds for the grants are part of the district's Expanded Learning Opportunity Plan (ELOP), Criteria #2, which calls for "accelerating progress to close learning gaps through implementation, expansion, or enhancement of learning supports."
The superintendent praised the teams for the investment they already give to students every day and their willingness to do something new and different despite the challenges of educating students during a pandemic.
"I look forward to seeing what you are able to accomplish this year for our students."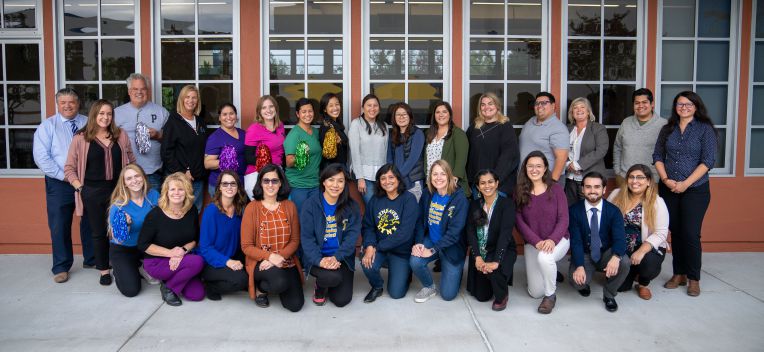 The Innovation Team Grant projects are:
"Comprehensive ELD to Support Writing - Castlemont Elementary 4 - 5" - Educators: Jennifer Bell, Michelle Biggs, Monique Balcazar, Andrea Chinbong, Jisung Chong, Marilyn Silva

"Passion and Leadership Clubs - Lynhaven Elementary TK - 5" - Megan Delaye, Melissa Schonig, Oanh Pineda, Anupama Gupta

"Espanol en Movimiento - Sherman Oaks 4 - 8" - Spanish Language Arts - Educators: Laura McAllister, Vanessa Zepeda, Lino Gutierrez

"Creating an Audio-Assisted Reading Library - Sherman Oaks K - 4" - SLA, Reading Interventions, RSP, and Library - Educators: Kristina Festa, Jeni Marty, and Rocio Valdovinos

"We can succeed here! - Rosemary Elementary 3, 4" - STEAM - Educators: Kelly Rambarran, Yolanda Chang, Sarita Sundaram

"Music Magic Makes People, People - Rolling Hills Middle School 6 - 8" - Music (Band/ Choir/ Ukulele) - Educators: Patrick Aguayo, Mike Rawlinson

"Middle School Innovation Hour - Campbell School of Innovation 5, 6, 7" - Innovation Hour / Electives - Educators: Steve Viegas, Lily Alberts, Erin Woll, Nicole Wallworth, Angela Duke, Cheryl Lee

"Stepping Up STEAM and Centennial Celebration Creation - Capri Elementary TK - 5" - STEAM - Educators: Gloria McGriff, Adam Tavakol, Janet Berliner
Each team was awarded up to $10,000 to implement their innovative ideas. Data will be collected throughout the process to determine those strategies or programs that should be expanded to other grades and schools. We are pleased to be applying our Profile of a Graduate competency of Innovation in such a deliberate way.