Middle Schoolers Win at SJSU Math-Engineering-Science Event
Campbell Middle School students prove their prowess at regional competition.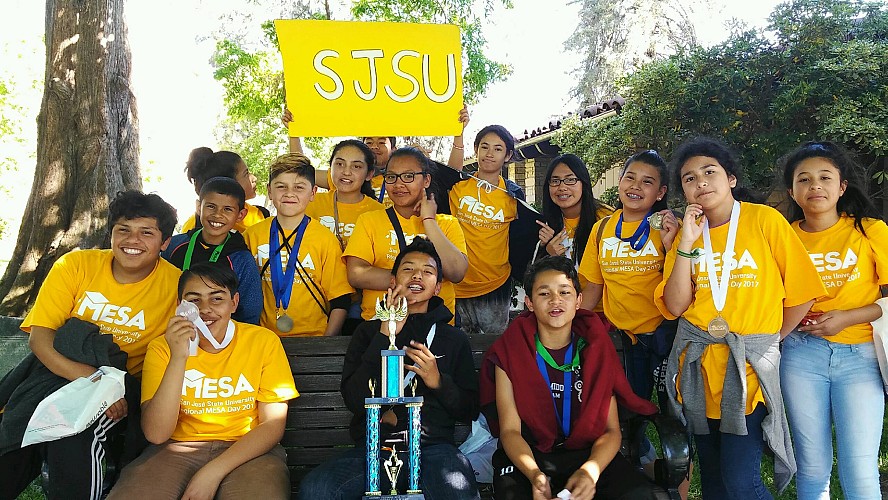 What do middle school students know about physics, engineering, thrust, forces and potential energy? Thirteen Campbell Middle School students know quite a lot and proved it when they won awards at the annual Math, Engineering, Science, Achievement (MESA) competition at San Jose State University Saturday, April 29, 2017.
"Their families and teachers are all very proud of them," said team advisor and teacher Richard Timpson. "They represented CMS well, and many took home first and third place wards."

The youths were among more than 600 California students representing MESA centers from Chico State, UC San Francisco, CSU East Bay, UC Davis, Sacramento State and University of the Pacific, and San Jose State. The event includes several project-based challenges, each requiring students to apply mathematics, engineering, and science skills, such as creating model bridges, prosthetic arms, model cars, and model glider planes.
"MESA helps students develop academic skills and leadership skills," said the team's other teacher-advisor Pedro Garcia. "They really get into the projects and problem-solving together. In the end, they do better academically, and gain confidence in being able to compete professionally."
The winning students are:
MOUSETRAP CAR
• 1st Place: Emanuel Vega & Daniel Turner – 8th Grade
• 3rd Place:Sofia Carmona Aguinaga – 6th Grade
• Proud Participant: Sienna Hernandez – 6th Grade
BALSAWOOD GLIDER
• 1st Place: Rodolfo Valentino and Brenda Munoz Ledezma – 6th Grade
• 3rd Place: Jeremy Garcia and Javier Corona – 8th Grade
• Proud Participants: Jacobo Guzman & Sydney Payne – 6th Grade
SPEAK UP – Genetically Modified Organisms
• 3rd Place: Ashley Coreas – 6th Grade
• Proud Participant: Jasmin Snee - 6th Grade
Rube Goldberg Machine
• Proud Participants: Miguel Paredes & Javier Corona - 8th Grade
EggXpress (Egg Drop and Lab Report)
• Proud Participants: Dayanara Amezcua & Alexa Sanchez -6th Grade.