Board Names New Superintendent
Dr. Shelly Viramontez to lead our preschool-to-eighth-grade district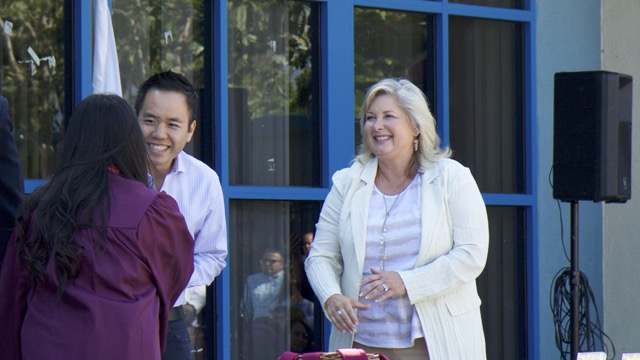 At its June meeting, Campbell Union School District's Governing Board appointed Dr. Shelly Viramontez to be the new District Superintendent. Currently the District's Associate Superintendent, she will fill the vacancy created when Superintendent Eric Andrew retires at the end of this month.
"In her years with CUSD, Shelly has proven to be a skilled communicator," said Governing Board President Thomas Gemetti. "She is known for her ability to form partnerships within the district and in the community that bring added support to students and families."
Viramontez has an exceptionally long history with the district, including being an alumnus of Cherry Lane Elementary School (which later became Campbell Middle School). She began her teaching career in 1996 as a Special Day Class teacher at Rolling Hills Middle School, then came up through the ranks as a teacher support provider, assistant principal, principal, Director of Special Education and Student Services, and currently is the Associate Superintendent of Human Resources. As Chief Executive Officer, she will oversee all aspects of Campbell Union School District's instructional and operational programs.
In addition, she teaches part time as an adjunct professor at the University of San Francisco, and serves on the Board of several professional organizations, including: the Region 8 Executive Board of the Association of California School Administrators (ACSA), the Resource Area For Teachers (RAFT) Board, San Jose State University's Master's Advisory Board, and Santa Clara County School Linked Services Board.
"Shelly will provide strong leadership going forward and continue to engage employees, families, students, and the greater community in achieving the district's strategic goals, said Superintendent Eric Andrew.
As an administrator and instructional leader, Viramontez has earned several distinctions, including three awards from the Association of California School Administrators (ACSA) Region 8—Negotiator of the Year; Administrator of the Year, Professor of Education; Administrator of the Year, Personnel—and the Educator Community Hero award from the County of Santa Clara Behavioral Health Board.
She holds a Doctorate in Organization and Leadership from University of San Francisco, a Master of Arts in Special Education from San Jose State University, and education and administrative credentials from Santa Clara University and San Jose State University.
She and her husband live in the Willow Glen area of San Jose, California. They have two grown children and two grandchildren.
Campbell Union School District operates 12 elementary and middle schools serving more than 7,600 students living in parts of Campbell, Los Gatos, Monte Sereno, San Jose, Santa Clara, and Saratoga.