Monroe Students Test New Technology Kits for District-wide Use
"This project will show students that technology is an empowering tool, not just some device invented by someone else to entertain us," said teacher Sherry Burch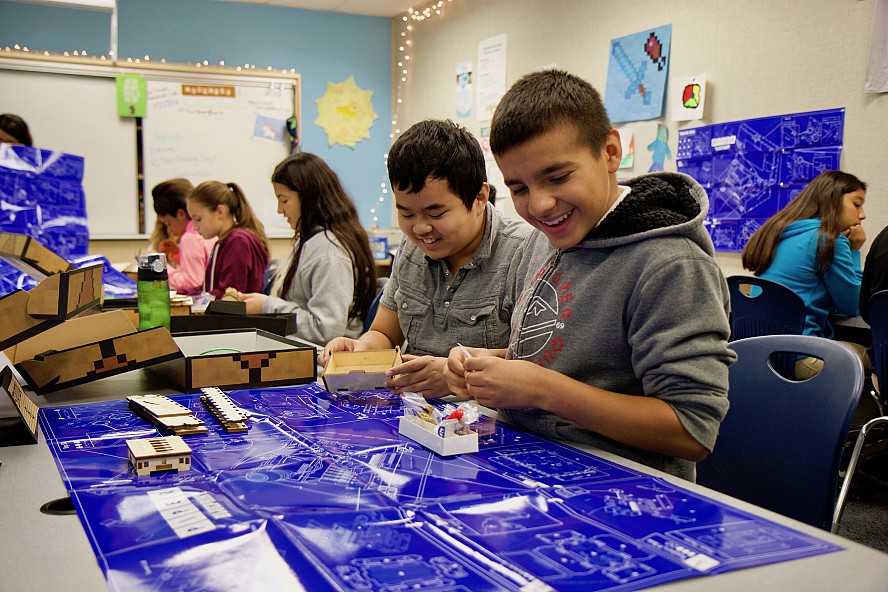 A new development in Campbell Union School District's STEAM* education initiative kicks off at 8 a.m., on Monday, November 14, 2016, at Monroe Middle School. Students in Sherry Burch's class will be the first in the district to use 16 new Piper Kits as they begin a series of hands-on lessons that include building and programming electronics.
"These kits are designed for students from grade 4 and up, and we plan to make them available to classrooms throughout the district," Burch said. "The lessons will show students that technology is an empowering tool, not just some device invented by someone else to entertain us."
Burch and teacher Julie Goo facilitate STEAM-focused instruction throughout the elementary and middle school district. They posted a project on Donors Choose in hopes of obtaining the kits and expanding computer programming instruction in all schools. Multiple donors made it possible to obtain the reusable kits—an investment of more than $6000—with a major portion provided by Campbell-based Groupware Technology Inc.
"These kits show students, literally, how to build a computer and then program it using a Minecraft interface," said Daryl Harrington, Sr. Systems Engineer, Cloud Solutions at Groupware Technology. "We were excited about funding the project as this program allows students to start their journey into engineering at an early age and become creators. Every student should have the opportunity to learn without boundaries."
Burch said that students will work in pairs as they:
Learn the inner workings of computer electronics
Build a self-contained computer running on a Raspberry Pi Project Board
Play Minecraft challenges that include hardware components
Connect to Wi-Fi for extra levels & sharing capabilities
Tinker w/ LED lights, motion sensors, buzzers, buttons & switches
*Steam stands for Science, Technology, Engineering, Arts, Mathematics