Students, Families Looking Forward to In-Person Learning
Students with health risk have an independent study option*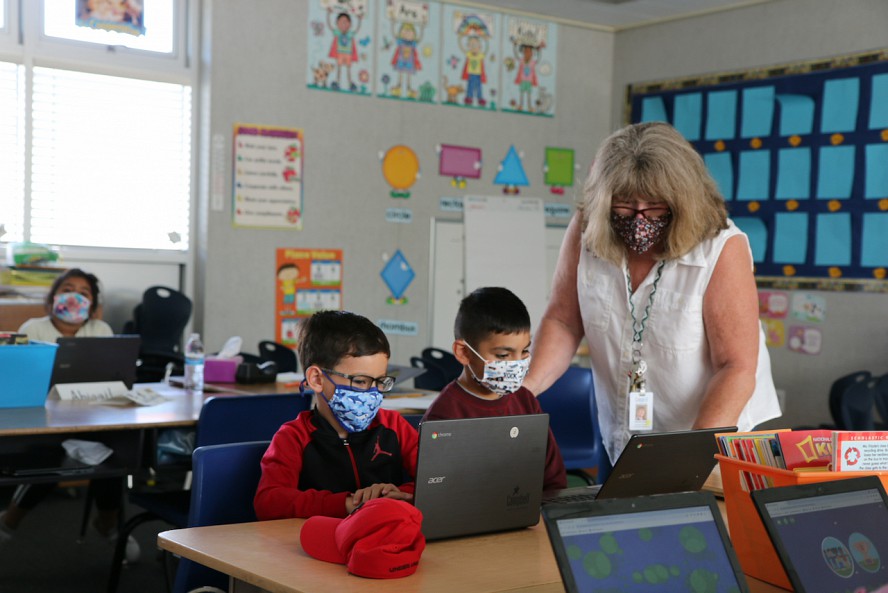 On August 19th, Campbell Union School District schools will welcome nearly all of its students back to campus—wearing their masks—for full-day, in-person learning.*
"We know now that masking has been—and continues to be—a powerful tool in reducing the spread of COVID-19," said Dr. Shelly Viramontez, superintendent of the district. "Now, for nearly all of our students, the benefits of in-person learning clearly outweigh the risks at this point in the pandemic."
The California Department of Public Health (CDPH) guidance states that "in-person instruction can occur safely without minimum physical distancing requirements when other mitigation strategies (e.g., masking) are fully implemented." Under the new CDC guidance, universal masking also permits modified quarantine practices under certain conditions in K-12 settings, which allows for more instructional time for students.
The CDPH guidance emphasizes: vaccination for all eligible individuals to get COVID-19 rates down throughout the community; universal masking in schools, which enables no minimum physical distancing, allowing all students access to full in-person learning, and more targeted quarantine practices, keeping students in school; Access to a COVID-19 testing program as an additional safety layer as needed.
"We will continue to follow the guidance and adapt as conditions and direction from CDPH evolve," Viramontez said. In addition to updating school and district safe opening plans with the new guidance, Campbell Union School District also:
Has a 98.7% vaccination rate among CUSD teachers, speech therapists, psychologists, nurses—those who have direct interaction with students. Any employees who are not vaccinated are required to provide a negative COVID-19 test each week.

Partners with local agencies to make vaccination and testing stations available for our community at our schools.
Enacted procedures that have thus far proven successful at preventing outbreaks in CUSD schools and offices.

Requires all unvaccinated employees to provide a negative COVID-19 test every week.

Will provide antigen testing to support modified quarantine, and other appropriate uses as directed by CDPH. Please note that parents/guardians must approve antigen testing for students under 13 years old.
Even with concerns around increased COVID-19 cases due to the Delta variant, numerous scientific studies have clearly shown that we have multiple tools in our toolbox to help keep children and educators safe. Health officials throughout California agree that it's time to return to full in-person instruction for the benefit of students, teachers, parents, the school community and the community at large.
"We're excited about being able to start the year with full day in-person learning for our students," Viramontez said. "These are important developmental years for them and schools provide not only academic learning but also critical interpersonal interactions that influence their future."
* There is an Independent Study option for the students who need it for health reasons. Participation in that option will require the parent/guardian to sign a Written Independent Study Agreement. Otherwise, the student will be assigned to in-person learning. Click for more information or contact Dr. Pamela Cheng, CUSD's Director of Teaching and Learning at pcheng@campbellusd.org.