District Leaders Urge City Approval of Safe Routes to School Enhancements
Community unites to turn grief into positive change
Noting that partnership with cities is essential to improving traffic safety for all students, Superintendent Shelly Viramontez spoke at the San Jose City Council meeting this week, asking that they continue to prioritize Safe Routes to School.
"Our Castlemont Elementary School community suffered a loss, as little Jacob Villanueva tragically had his beautiful 8-year old life cut short as he did what thousands of children do every single day in our city—walking across a crosswalk," said Dr. Viramontez. "I applaud you for recognizing the importance of pedestrian safety, and your willingness to raise awareness for such an important issue that literally impacts every single resident of our city."
Vice Mayor Chappie Jones initiated a memorandum to the Rules and Open Government Committee for expanding safety programs to prioritize Safe Routes to School. Viramontez added that his partnership has been a vital part of our district's ability to marshall community resources that benefit the students, staff and families in our district.
To see the official request to the Rules Committee, click here.
To express your thoughts to the San Jose City Council, click here.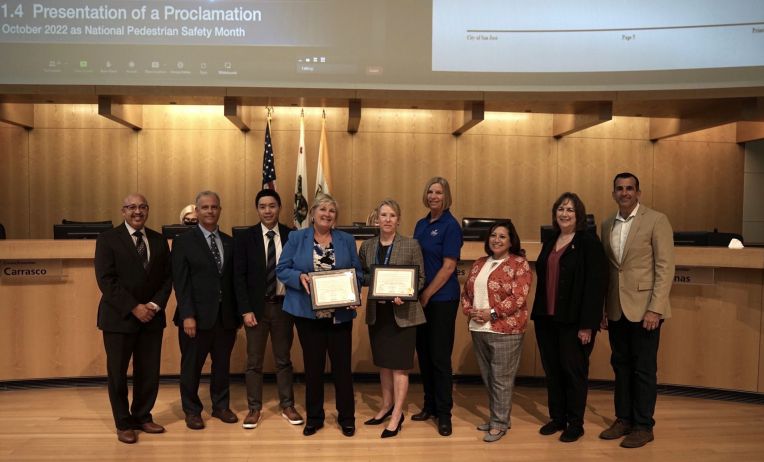 Pictured in the San Jose Council Chambers following the presentation of a proclamation are Vice Mayor Chappie Jones, Councilmember David Cohen, CUSD Board President Richard Nguyen, District Superintendent Shelly Viramontez, County Superintendent MaryAnn Dewan, CUSD Board Vice President Danielle Cohen (no relation), Castlemont Principal Kristen Prindle, Councilmember Pam Foley, San Jose Mayor Sam Liccardo.