Grant Funding Extends Student Opportunities
Funds increase access to quality after school and summer learning programs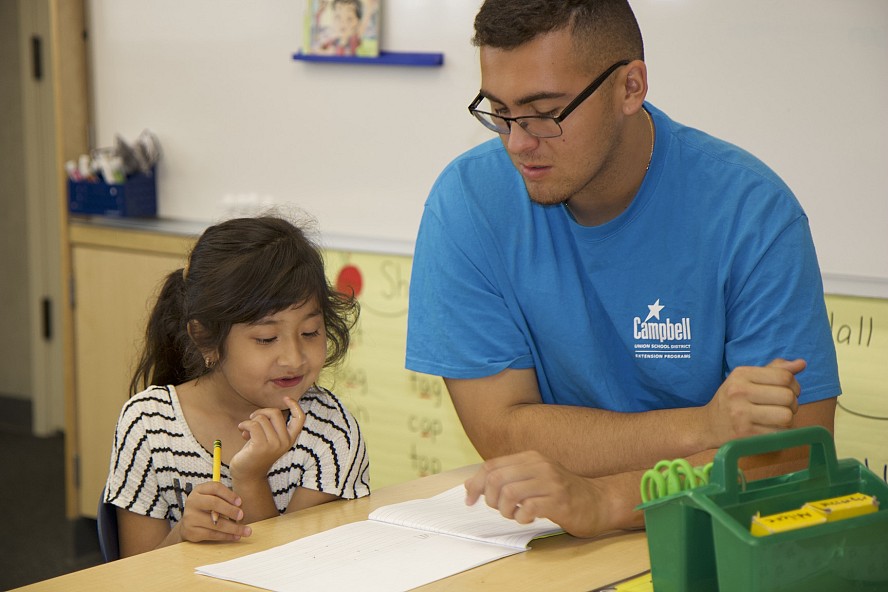 In a region where an income chasm divides the "haves" and the "have-nots," the SJ Learns grant* is helping more Campbell Union School District (CUSD) students attain their highest potential. The funding has helped to increase the access that disadvantaged students have to the district's quality after school and summer programs, and to enrich and extend the learning opportunities offered.
After reviewing success from the 2018-19 school year grant of more than $131,000, the SJ Learns grantors awarded CUSD a two-year renewal of $260,712.
The funding from SJ Learns and other grants support and expand several beyond-the-school-day programs:
Learning Express is a school-year program that provides targeted student groups with the opportunity to get homework support and early literacy interventions for kindergarten through third grade.
Students in all of our after school programs engage in STEAM, health and fitness, social emotional learning and service learning.
The summer ACHIEVE program offers meaningful academic and enrichment learning opportunities for children who are most in need of academic support and a safe place during the summer months. Our efforts are focused on reducing summer learning loss, providing an engaging and safe place for students, and closing the achievement gap.
Additionally, we strive to develop the key competencies of critical thinking, creativity, innovation, collaboration, and empathy. Students benefit as the academic components are taught by credentialed teachers in partnership with trained Expanded Learning staff who provide the enrichment components that foster cooperative learning, skill building, and opportunities for children to try something new.
As the operator of these programs, CUSD can ensure quality and alignment with what students experience during the school day, promote achievement for all students, and monitor what efforts are showing the best outcomes. Documenting successes has made CUSD a desirable choice for community grant programs and partnerships, enabling us to further expand the program and opportunities at each of our 12 schools.
For more information about CUSD's after school and summer programs, contact Campbell Union School District's Extensions Department, at 408-364-4200 ext. 6378.
* The grant is made possible, in part, by the SJ Learns grant-making strategy of San Jose Public Library Foundation and the City of San Jose.