Guidelines for Reopening School Announced
More students on campus for more days likely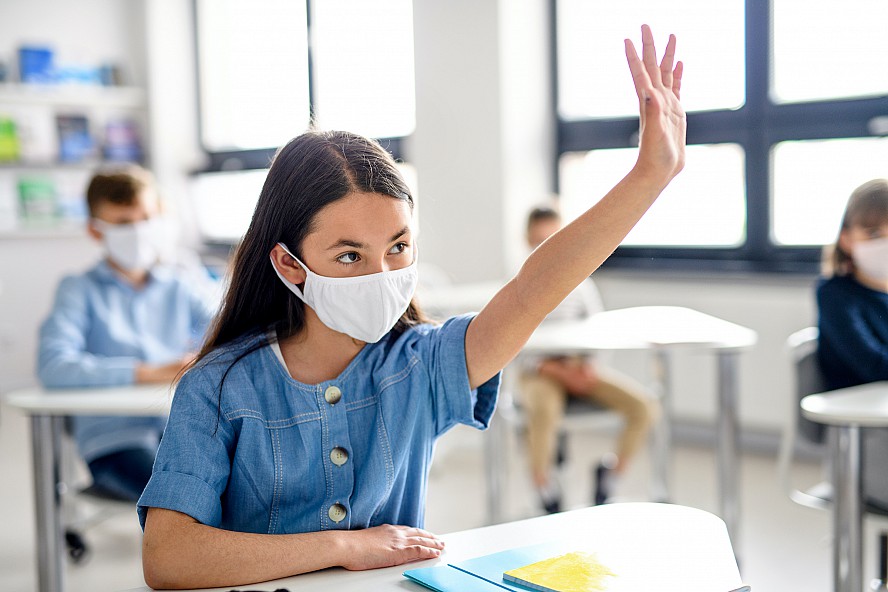 A Message from Superintendent Viramontez…
Citing the latest scientific evidence around COVID-19 and revisions to California Education Code, the Santa Clara County Public Health Department (PHD) today announced guidelines allowing schools to reopen to in-person instruction for students in the 2020-21 school year. A preliminary review of the guidelines indicate that we may be able to have elementary students on campus 5 days a week.
In light of this information coming earlier than originally promised, we moved up our scheduled Reopening Committee meetings to July 8 and July 15, to examine the details and see what refinements to make for safely reopening our district's schools. In addition to our localized information, we will also be reviewing the recently released information for planning considerations from the American Association of Pediatrics.
We anticipate being able to share a concrete plan with schedules and guidance for families and community by the end of July, if not sooner. As we are all frequently reminded, we know that flexibility will continue to be essential as new information becomes available.
Change Due to New Information
Early guidance from the PHD was based on knowledge and experience with influenza. The latest findings show that COVID 19 is not behaving like flu in young children. Child-to-child transmission appears to be lower than adult-to-child transmission among children under 12 years old, while transmission among teens is more like that of adults.
A trailer to the State's budget bill is updating Education Code sections 43503 and 43504. Section 43503 states that schools in California "shall offer in-person instruction to the greatest extent possible" during the 2020-2021 school year. Education Code section 43503 states, "Distance learning may be offered under either of the following circumstances: (A) On a local educational agency or school-wide level as a result of an order or guidance from a state public health or a local public health officer. (B) For pupils who are medically fragile or would be put at risk by in-person instruction, or who are self-quarantining because of exposure to COVID-19."
Specific Guidelines Aid Planning
The PHD guidelines provide a series of requirements, recommendations, and considerations specifically for schools to reopen campuses for in-person instruction. They address classroom settings, common areas, transportation, health screenings, school events, arrivals, notifications and much more. After school and athletics guidelines are not included and are in development.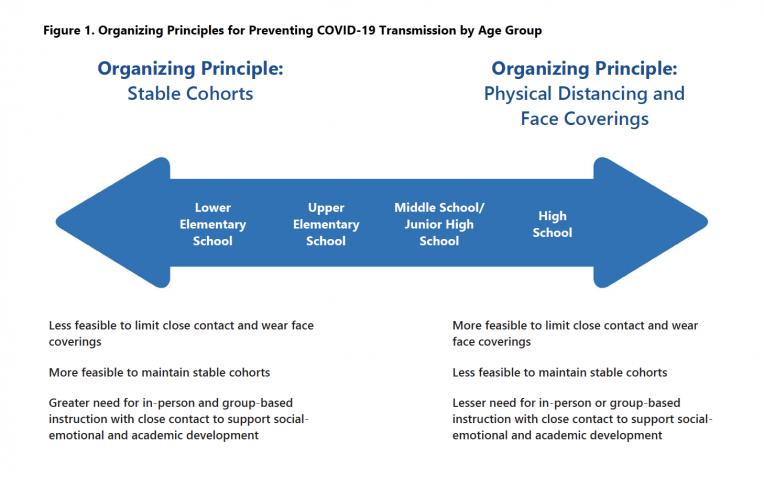 Required and recommended prevention measures vary by age group. For example, elementary schools can limit risk by making sure students only have contact with their own teacher and other students in their class, while high schools can expect students to follow more stringent mask-wearing and social distancing expectations.
Prevention measures focus on the following key strategies:
Minimizing the number of people who come into contact with each other.

Maximizing the physical distance between people.

Reducing the time that people spend in close proximity to others.

Measures to minimize dispersion of droplets and aerosols.
The full guidance and additional information for schools is available at sccgov.org/cv19schools.
The County of Santa Clara Public Health Department's decision to reopen school campuses for in-person instruction and to keep them open will depend on a number of factors. These include, but are not limited to, continually evolving scientific understanding of COVID-19; the number of current COVID-19 cases; the degree to which schools are contributing to community spread of COVID; the capacity of our health system to identify and care for cases and prevent transmission in healthcare settings; the availability and use of widespread testing to identify new cases; county residents' ability to quickly and effectively isolate or quarantine themselves when sick; and our community's continued cooperation in practicing physical distancing, using face coverings, and taking other preventive measures.