COVID-19 Response Overview
The health and safety guidelines outlined in this document are a direct reflection of the COVID-19 Public Health Guidance for K-12 Schools in California by the California Department of Public Health (CDPH).
As guidance from CDPH changes, we will update this document, send notifications to Campbell Union School District families and staff, and add summary information to the "Updates" section of this document.
As stated by CDPH:
"Disease management strategies in K-12 schools are guided by the principle that safe, in-person learning is critical to student well-being and development.
COVID-19 is here to stay, but we have learned methods and gained tools to decrease its impact on our health and well-being. California's schools can manage this disease in sustainable and adaptive manners. Additionally, many of the strategies used to address COVID-19 can protect school communities from other diseases and support healthy learning environments.
The guidance is based on current scientific knowledge and anticipated trends. It is subject to change, as COVID-19 conditions can shift rapidly and our response in schools must remain nimble and responsive to dynamic challenges."
OVERVIEW OF STRATEGIES TO REDUCE SPREAD OF COVID-19
Layering mitigation strategies decreases the risk of in-school transmission of the coronavirus. Following are the Mitigation Strategies from the CDPH that will be implemented in Campbell Union School District for 2022-23.
Staying Up to Date on Vaccinations
Optimizing Indoor Air Quality
Using Facemasks
Getting Tested for COVID-19
Maintaining Clean Hands
Managing Individuals with Symptoms
Reporting COVID-19 disease burden to local health authorities
Managing Students Diagnosed with COVID-19
Managing Students Exposed to COVID-19
Managing COVID-19 Outbreaks
Cleaning Facilities
What to Do If You Test Positive for COVID-19
If your student tests positive for COVID-19, please see the section: Managing Individuals with Symptoms.
The California Department of Public Health offers a offers this link to a secure platform for reporting at-home COVID-19 test result to your California Local Health Department. Please report both negative and positive results to help your local health department track COVID-19 in your community. (https://my.primary.health/l/caschools)
Mitigation Strategies by Topic
The virus that causes COVID-19 has reached a level known as Community Spread. Community spread means people have been infected with the virus in an area, including some who are not sure how or where they became infected. Individuals can reduce their risk of infection by layering multiple mitigations.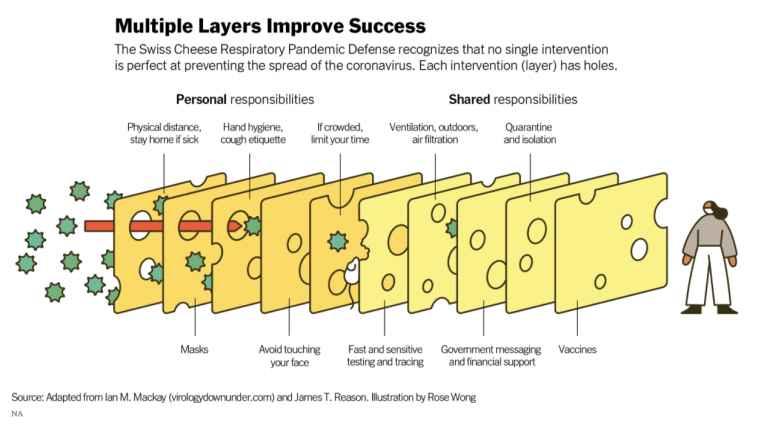 Updates and Publishing Information
Updates to the Opening Plan for 2022-23 School Year will appear in this section.
List of updates to the COVID-19 Response Plan
Visitors to campus no longer need to prove full vaccination, 10/21/2022
District's COVID-19 Testing Plan, 12/15/2022
Updates for 03/15/2023
Effective March 13, 2023:

A COVID-19 positive person may end isolation after five days and return on day six if they feel well, have improving symptoms, and are fever-free for 24 hours, with less emphasis on testing negative.

They must continue to wear a mask until after Day 10.

This change

aligns with Centers for Disease Control and Prevention (CDC) recommendations.

After ending isolation, individuals may remove their mask sooner than Day 10 with two sequential negative tests one day apart.​

Updates to the definition of infectious period.

Updates from the CDPH: Effective April 3, 2023:

Masks will no longer be required in indoor high-risk and health care settings. They are optional.

Schools will no longer

send exposure notices home when a positive COVID-19 case is reported
Governing Board
Danielle M.S. Cohen, Chris Miller, Richard H. Nguyen, William Slade, Michael L. Snyder
Dr. Shelly Viramontez, Superintendent
Published 08/5/2022; Last update: 03/15/2023