Campus Improvements:
Campbell School of Innovation (CSI)
In 2016, as part of our district Strategic Plan, Campbell Union School District had the rare opportunity to create a new public school option for families. The process of creating Campbell School of Innovation (CSI) on the former Campbell Middle School campus included extensive community input and research over a period of several years.
CSI opened in August 2018 for students in Transitional Kindergarten through fourth grade, with plans to grow to a preschool through eighth grade school.
Timeline: Creating CSI
September 18, 2018: Community Input Meeting
September 12, 2018: School Dedication and First Back to School Night for families
August 22, 2018: New TK-8 school opens with grades TK-4. Additional grades added in subsequent years
June 2018: Campbell Middle School closes
Frequently Asked Questions
Answers to Frequent Questions about Campbell School of Innovation construction and plans.
Construction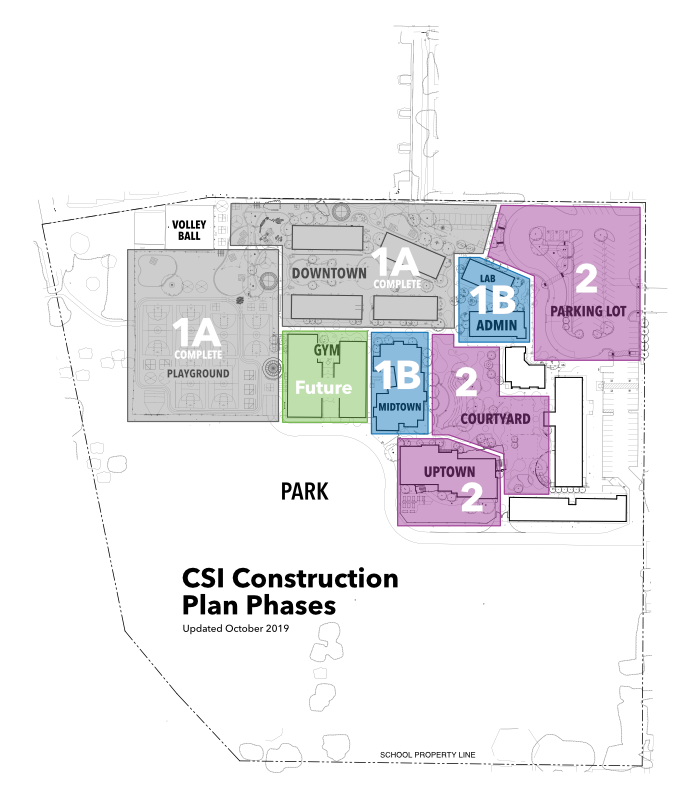 Phase 1
Replace A-Wing Classrooms, New Playground Equipment, Garden, Extended Parking Lot, Relocate Tennis Courts
December 2017: Start demolition of current A-Wing, Play area, Tennis Courts
February 2018: Start construction of new A-Wing and Play Area
August 2018: School opened
TBA Expand parking and garden
TBA Construction of new Tennis Courts (pending)
Phase 2
Replace C-Wing Classrooms, Renovate Courtyard, New Covered Lunch Area, Ingress/Egress on Rincon Avenue
Fall 2018: Start design of new C-Wing and Courtyard
Spring 2019: Traffic study on driveway to/from Rincon Avenue
Spring 2019: 20 Begin construction of new C-Wing, Courtyard, Parking, and Potential Driveway
August 2021: New C-Wing opens for middle school students
We will continue to request and insist that our contractors and THEIR subcontractors adhere to City of Campbell noise ordinance regulations. We encourage members of the public to notify the Campbell PD whenever a violation occurs so that enforcement can happen.
As we do with all school construction, we will try to preserve as much of the existing architectural art as we can.
Enrollment capacity has been set at about 850 students.
SITE PLANS: Parking and Traffic
Regarding traffic safety this year: We will request the City's traffic engineer to evaluate the traffic at this school.
Regarding traffic and parking going forward: Based on extensive community input, we have developed proposed plans aimed at: 1. maintaining student safety; 2. mitigating traffic congestion on Cherry Lane; and 3. Reducing demand for off-campus parking. Our timeline includes a traffic study in spring 2019. Through that process, the City of Campbell provides opportunities for the public to voice concerns, ask questions, and provide input. The results of that study will provide more direction and insight for our site plans.
Regarding parking: On-campus parking is intended for staff, parents picking up/dropping off students, and school visitors, (including members of the public using the facility during non-school hours). Current proposed plans call for covering some of the grass area behind the "C-wing" to use for parking. The added parking will be within the school's property line.
SITE PLANS: School Garden, Playground, Gym and Tennis Courts
The City's current community garden does not have a waiting list, and City officials indicate there is not a high demand for a community garden at this time. We are planning it to be a garden for student use only. Fencing, location and security will be incorporated into the school's facility use and safety planning.
The playground is scheduled to open before the end of October.
The number of courts is undetermined as this time, but two have been proposed, based on usage.
Phase 3 projects are dependent upon future funding. Likely it will be a renovation and not a complete reconstruction 10-plus years from now.
OTHER: Educational Programs
We plan to offer preschool at CSI, pending licensing and demand/enrollment.
CSI offers music as part of its instructional program now. We will continue to seek opportunities to expand those opportunities as the school grows.
Resources & Renderings
Board Presentations about Campbell School of Innovation