District Adds COVID-19 Mitigations, Updates Safety Plan and COVID-19 Web Page
Multiple layers of protection help students continue in-person learning.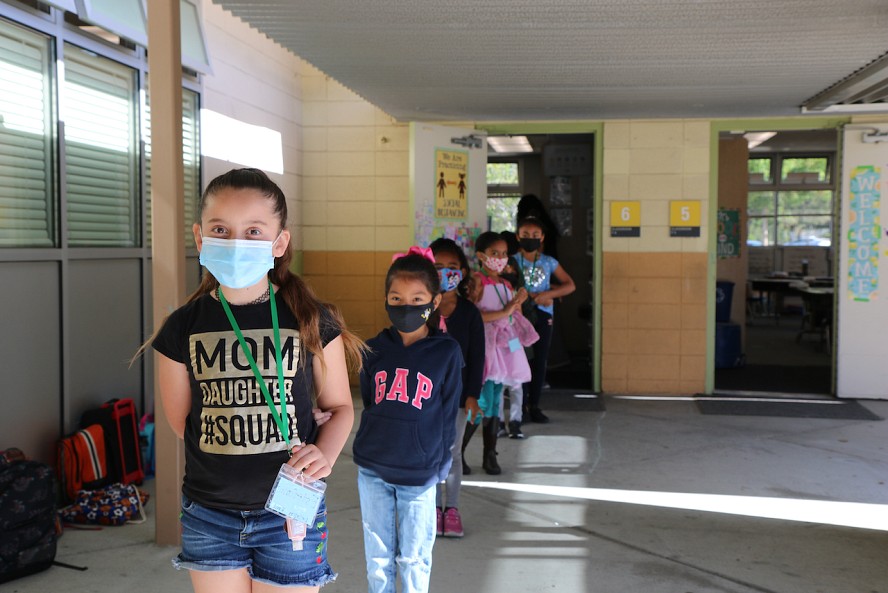 For schools, education is job one, and providing a safe learning environment for students and staff is essential. Our partnerships with public health professionals and with families help us to stay informed as new information and opportunities for maintaining safety arise. Following are a few of the recent updates.
No-cost COVID-19 Tests for Students
As an additional layer of protection, the U.S. Centers for Disease Control and Prevention (CDC) recommends screening testing in schools to stop the spread of the virus and prevent outbreaks. Campbell Union School District has partnered with professional testing experts at Grapefruit Testing to conduct no-cost COVID-19 screening tests of students and staff at our schools.
All students will require parent/guardian permission to participate. Information and consent forms were emailed to families this week, and printed copies can be obtained from the school office. The links are also provided below.
We encourage families to complete the consent form and submit it directly to Grapefruit Testing so that your student may participate in this important on site, health screening opportunity. This testing will also allow us to test students who may qualify for a modified quarantine.
The following links will provide more details about the testing opportunity.
Link to the Youtube recording of Grapefruit Testing's August 19th community meeting (English with Spanish subtitles):

https://youtu.be/DOec4jjbtP8

Link to the English Informed Consent Form: https://hipaa.jotform.com/build/212325684164152/publish
Enlace al formulario de consentimiento informado en español (Link to the Spanish Informed Consent Form): https://hipaa.jotform.com/build/212336698243460/publish
COVID Web Page and Safety Plan Updates
Information about the testing program and other safety measures is available on our COVID-19 Resources web page. Recent updates to the COVID-19 page and the Safe School Opening Plan include:
Quarantine Decision Tree

Physical Distancing of 3 feet

Frequently Asked Questions
The COVID-19 pandemic has impacted every facet of our society, leaving many employee positions unfilled, creating shortages in key supplies, and taxing the nerves of even the most sanguine people. Our students rely on the adults in their lives to persevere calmly and continue weighing the benefits and risks as we decide what is best for them. It is our hope that this information will help.