CUSD's Exemplary Family Engagement Program Earns Top Honors 
FEI in CUSD makes a significant impact on student success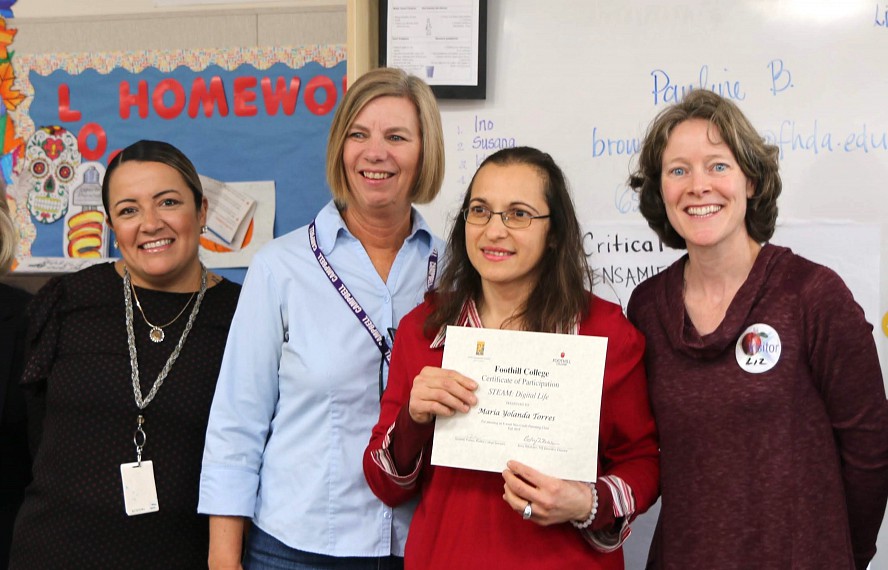 FEI (Family Engagement Institute) in CUSD, one of Campbell Union School District's programs aimed at strengthening the home-to-school connection, earned the County School Board Association's highest honors in the prestigious Glenn W. Hoffmann Awards program: the Kristi Porter Outstanding Program Award. It is the highest award of all of those receiving Hoffmann Awards among the 31 districts in the county.
"Parents tell us in person and through surveys that the FEI program has made a positive difference for them and their families," said Director of Student Services Rosanna Palomo. "It builds their knowledge, skills and confidence in supporting their child's education and strengthens communication at home and at school."
In the photo above, a parent poses for a photo at completion of the fall 2019 FEI sessions. Learn more about FEI in CUSD here.
The Hoffmann awards are a 35-year tradition that celebrates school and school district programs that significantly impact student success in our region. The awards are named for Glenn W. Hoffmann, who served as the Superintendent of Santa Clara County schools from 1967 to 1984, and believed that leadership is a key factor in educational reform. A selection committee of school administrators and school board members score entries from Santa Clara County school programs. Awards are given to only those programs that receive the highest scores. The highest-scoring program of all also earns the Kristi Porter Outstanding Program Award, named after a late board member of the Oak Grove School District and past president of the SCCSBA.